An Office without Computers. It's not just Possible, It's Happening

An Office without Computers. It's not just Possible, It's Happening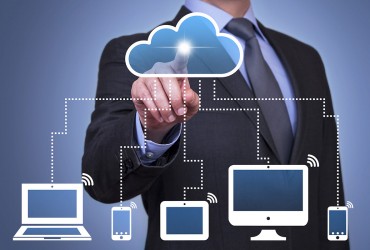 In a recent meeting with a website marketing specialist, we were discussing what our company does so he could understand how best to promote our website. He suddenly stopped us mid-conversation and said "Wait a minute. I don't need a computer at my office anymore for employees to work?" He had a look of surprise I will never forget. I replied "That's correct. Our solution eliminates the need to buy laptops and PC's." I received a quick "How is that possible?"
I'll share with you what I told him in that meeting. It became evident to me in this meeting that many business owners have no idea how "Cloud Computing" has changed technology and how it benefits them. So let's talk about "old school vs. new school".
The "Old School" IT for Small Business
Most businesses still use this model or one very similar to it. You purchase a PC or laptop for each employee, Then you buy software, Microsoft Office, Adobe Acrobat, Quick books, etc. If you have more than 5 employees, you generally purchase a server solution from your local IT consultant and pay him to install it which requires a Physical Server, Microsoft Windows Server software and Client Access License(CAL) for every employee, and a need to upgrade your PC windows licenses on every PC to the Professional version as most retail PC's and Laptops come with the Home version of Windows 7/10. Let's use a 10 person office as an example:
– Server Hardware: $4000 AVG
– Windows Server 2016 Essentials with 10CALs: $999
– Windows 7/10 Professional Upgrade (10): $990
– Anti-Virus/Anti-Malware Solution (10): $400
– Microsoft Office 2016 Std (10): $2980
– Adobe Acrobat Std (10): $990
– Professional Services to install and setup properly: $ 2000-3000
– Firewall $1000
– Network Switch: $300
– Cloud based Backup Solution (Local and Cloud): $3000/yr
– Help Desk and On-site Support $800/mth or $9600 annually
Estimated Initial Cost: $ 16,659.00
Estimated Monthly Cost: $1050.00

Here is the real hard part of this: you will have to upgrade your hardware and software every 3-5 years to keep things up-to-date, running well, and under warranty.
The "New Model" IT for Small Business
Let's take that same 10 person company and set it up in a complete cloud environment. A Cloud 360 solution from our company is $120/mth user it includes:
– A Windows 2016 Server set up Active Directory to manage your users
– A Windows 2016 Remote Desktop (looks and feels like Windows 10 Professional) for each user
– The desktops and server are fully protected by Bit-defender, the leader in Anti-virus and Anti-malware protection
– A Microsoft Office 2016 Applications Std License for each user
– A Microsoft Office Exchange Email account for each user with Mobile Device Mangement
– All email is filtered for SPAM and VIRUS protection
– The entire network is located in a dedicated Virtual Space for your company that only you and your employees can access.
– The network environment has redundant hardware, cooling, connectivity and is automatically backed up to insure 99.9% uptime
– For a nominal fee, you can have a true Disaster Recovery plan by utilizing or "Business Continuity" option that replicates your entire environment to our data center in Dallas
– Include unlimited 24/7/365 Help Desk Support and unlimited 7am to 7pm On-site support
This solution includes a small CloudConnect (thin client) box that connects to the desktop at the data center securely and requires no maintenance. Just plug in a monitor keyboard and mouse. No need for a PC or a laptop. This is what we call "Same Desktop Anywhere" technology you can access it from any computer or tablet regardless of the operating system installed. You can use it with Microsoft, Apple, Linux and Android.
Estimated Initial Cost $1200.00
Estimated Monthly Cost $1200.00
That's an initial savings of about $13,659.00 just in the first year. That is capital most business owners could use for sales, marketing, industry specific equipment or just reserve capital.
One of the first things I heard when suggesting a Cloud-based solution is "I don't like my data in the cloud". I hate to break it to you but if you use a smartphone of any kind, have a Dropbox account, or use any kind of free web-based email like Gmail; you already use the cloud, and trust it with your personal information everyday. It is safe. Like anything else on-line, it requires the use of encryption for secure communication (which we use) and smart password management. Things you should be doing already and are strictly enforced in cloud environments. You have a higher chance of getting your credit card information stolen from a waiter or card reader at an ATM or gas station than you do having your cloud information compromised. It is the one of the most secure environments and our solution " Quasar Cloud" is located in our Houston SSAE16 certified Data Center. We are HIPPA and PCI compliant and invite you to start thinking outside the "Old School" box.
If you want to know more, simple contact me at: rtrembath@quasardata.com